BitDomain.BIZ just recently launched its Affiliate and Partner Program to reward our partners for referrals to our website www.BitDomain.BIZ. We wanted to create not only the best but the ideal bitcoin referral program for our partners. The following article sums up the criteria we put into developing the affiliate program
.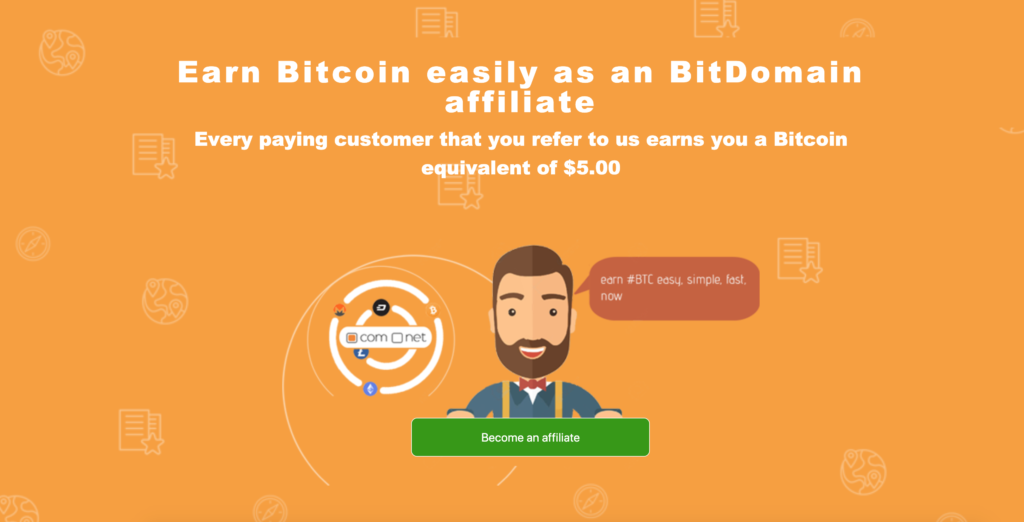 1. Finding a truly crypto based partner program
Finding a truly crypto, especially Bitcoin (BTC) based affiliate or partner system rewarding for traffic is almost impossible. As most affiliate programs out there do not provide payouts in Bitcoin or other crypto currencies but in fiat money. A good crypto based referral program should also provide payouts in crypto currencies. If this is not the case a lot of money is lost in the conversion and the advantages of handling crypto currencies only is lost.
Success criteria 1: Payouts only in Bitcoin (BTC) or other crypto currencies.
2. Registration should be as easy as possible
As a valued partner providing traffic and revenues you should receive the appreciation you deserve. Therefore onboarding as a partner should be smooth and easy. Long registration and activation procedures are simply annoying and time and energy wasters. We only ask for a) your e-mail address to notify you about the money you have earned for every transaction and b) your Bitcoin wallet address to send you the money that you have earned in Bitcoin (BTC).
Success criteria 2: Registration must be smooth and easy.
3. Transparency and predictability on what you are earning
Partnership is all about fairness. This reflects in the predictability of your payouts that you earned through referring traffic to our website. A fair affiliate program has no exceptions in your payouts, no complicated payout calculations and no incomprehensible fine print. In out BitDomain.BIZ Affiliate Program every unique client that you refer earns you $5.00 payed out in Bitcoin (BTC) – no exceptions.
Success criteria 3: Payouts need to be transparent and predictable
4. Realtime overview on your referrals
The secret to long-lasting partnerships is trust. Thus all your referrals and transactions should be accessible to you instantly when they occur. Having an overview at anytime about what you earn is out highest priority. We send you a notification e-mail every time there is a purchase referred by you. No need for you to wait for purchasing statistics or having to log in to complicated dashboards.
Success criteria 4: Earnings should be accessible in realtime
5. Payouts at any time
As an affiliate partner you provide referrals instantly but you have to wait for your payouts several weeks? That does not seem to be a fair deal in a partnership. You deserve nothing less than timely payouts for the customers you have referred. We payout every transaction in Bitcoin (BTC) to the wallet that you have provided just hours after the purchase has been confirmed.
Success criteria 5: Payouts should happen timely and at any time.
When we launched our BitDomain.BIZ Affiliate and Partner Program  we had these 5 success criteria in mind. Check out our Referral System and sign up as an Affiliate Partner and start earning Bitcoin (BTC) for referring customers to us.